Introduction to Mental Health Awareness – Online, half-day sessions
When we think about mental health difficulties we often think about the more challenging conditions and diagnoses such as bi-polar disorder, personality disorders and psychosis but mental health is a range of conditions and difficulties.  If you're struggling to cope, manage your emotions or mood at times, it can be useful to learn more about mental health conditions and treatments, to think about how you can keep yourself well and look after the people you care about.
This course has been developed to give delegates a basic knowledge of common mental health issues and to give the time and space to consider how they can look after their mental health and wellbeing.  The training is designed to facilitate the thinking of each delegate, to identify their own wellbeing solutions and options for change.  Time will be given for delegates to share experiences and identify best practice to embed effective wellbeing solutions into their everyday practices.
The training will be delivered online, via Zoom over three and a half hours, with a 15 minute break.  Delivery will be varied to ensure breaks away from the screen and to work in pairs or small groups via break out rooms.  Group numbers will be limited to eight delegates to ensure everyone has the opportunity to contribute to the session.
Cost per Delegate                  £45
Discounted places are available for people who live and work in Warrington and Cheshire.  Register for your discount here
Course content, booking instructions and dates are available here
Workforce Wellbeing – The Book
Workforce wellbeing is at the foundation of your organisation's strength and resilience.  If your workforce isn't well, your organisation won't be well either.  
Whether you're an Employer, a new or experienced Line Manager or are learning about business leadership, this book will be a valuable guide to the consistent practices required to manage staff performance, behaviour and attendance to build an engaged, effective and thriving workforce.
You can buy the book here  (Click on New and Used to find the best price).
Five star reviews
"An essential read – especially in the current climate"
"Great investment to support staff and improve performance"
"A very enjoyable read – Just like her courses!! :-)"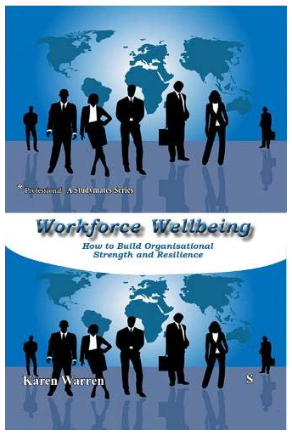 Managing Difficult Conversations to Achieve Successful Outcomes
Online Training Package
As an Employer or Line Manager, are you struggling to address performance, behaviour or attendance issues with your teams?  While it can be tempting to ignore those conversations, nothing will change unless you address the issues and support improvements. My training can help you to do that.
Based on thirty years of business and management experience, the course can help you to develop a more confident and proactive leadership style. As you manage your team assertively and effectively, you'll recognise great performance and support personal and professional developments to build an engaged and motivated team.
You can see the full course content before signing up and see a summary here.
I'm here to help,
get in touch with me today!