Workforce Wellbeing
How to Build Organisational Strength and Resilience
Workforce wellbeing is at the foundation of your organisation's strength and resilience. If your workforce isn't well, your organisation won't be well either.
Workforce wellbeing isn't just about health and wellbeing, it's about having a conversation with your staff, to check in on their wellbeing, to have a conversation about how things are going and to know whether they're doing a great job or not. Employers, leaders and managers have a duty of care to their staff to ensure they are sufficiently well to carry out the roles they are employed to do. Is that duty of care demonstrated in your team or organisation? Is your workforce well and effective in everything they do?
Whether you're an employer, an experienced or new Line Manager, or are learning about business, staff and line management this book will be a valuable guide to the consistent practices required to manage staff performance, behaviour and attendance to build an engaged, effective and thriving workforce.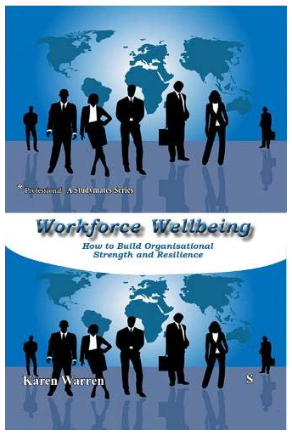 This book will help you to develop and maintain a culture of workforce wellbeing, where staff members are recognised for the great work they do and supported to make improvements as required in order to build the strength and resilience of your team and organisation.
Content includes:
what workforce wellbeing looks like
identifying a problem
managing a difficult conversation
influencing change
agreeing a way forward
monitoring progress
managing team diversity
The book will support you to think about the legacy of your leadership  style and to make behavioural changes which will help to build a more engaged and effective workforce who you know are well.
You can buy the book here (click on New and Used to get the best price)
You can access five videos to describe the content of the book here