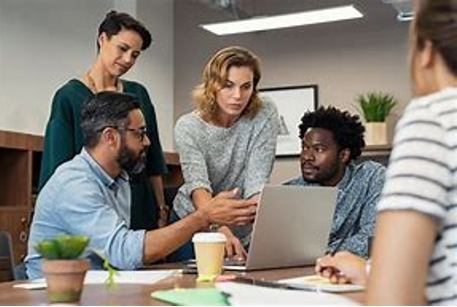 Workforce wellbeing isn't just about health and wellbeing; it's about having a conversation with your staff, to check in on their wellbeing. To have a conversation about how things are going and for them to know whether they're doing a great job or not.
Employers, Leaders and Managers have a duty of care to their staff to ensure they are sufficiently well to carry out the roles they are employed to do. Is that duty of care demonstrated in your team or organisation? Are your workforce well and effective in everything they do?
Employers and Line Managers, are you:
concerned about staff retention and rising absence levels?
looking to improve staff engagement, productivity, wellbeing and culture?
struggling to engage, motivate and energise your staff to perform effectively?
reluctant to tackle the difficult conversations as the culture around you doesn't support improvement?
struggling to communicate assertively to influence the performance and behaviour of your teams?
looking for engaging and interactive solutions as team development activities?
anticipating strategic changes?
If so, KW Inner Strength has a solution for you.
Coaching, Training and Consultancy Solutions
KW Inner Strength offers a range of solutions to support the wellbeing of your workforce. Working with teams and individuals, KW Inner Strength can support Employers and Line Managers to develop their teams assertively and effectively to build an engaged and motivated workforce who support the strength and resilience of your organisation.
You'll manage the performance, behaviour and attendance of your workforce effectively, to recognise and celebrate great work, and identify and support areas for improvement. You'll have those conversations to motivate people to engage and work well. They'll know that you'll address issues of performance, behaviour and attendance as you want your people to be well, in order to work effectively in your organisation.
You can get to the employer/employee win-win. KW Inner Strength can show you how.
Training and Development
You can check out our full list of half-day and one-day development sessions on our KW Inner Strength Development page, and see details of the managing difficult conversations to achieve successful outcomes online programme and Line Management training here. 
Training and development solutions which relate specifically to workforce wellbeing include:
Developing and embedding effective workforce wellbeing cultures
Developing workforce wellbeing and effective performance from your teams
Implementing effective performance management to build productivity
Managing difficult conversations to achieve successful outcomes
Managing under-performance to get to the win-win
Mental health awareness to support effective line management
Understanding personality types to build effective relationships
Workforce wellbeing – building organisational strength and resilience
These courses can be delivered as part of line management training package or individually to support the development of the leaders in your business.
You can get in touch to discuss your specific requirements and book your training.
Email: kw.innerstrength@outlook.com
Tel: 07988 767902
Articles and Resources
Our workforce wellbeing articles are based on Karen Warren's book 'Workforce Wellbeing – how to build organisational strength and resilience' and online training programme 'Managing Difficult Conversations to Achieve Successful Outcomes', both of which are available from our workforce wellbeing resources page.  
The articles can help you to develop and maintain a wellbeing culture, facilitate an effective  conversation, find the right environment for effective listening, manage escalating behaviours and influence change.
You can contact us to discuss how KW Inner Strength can support the strength, resilience and success of your business, through the delivery of bespoke coaching, training and consultancy solutions.
Email:  kw.innerstrength@outlook.com
Tel:  07988 767902